Roomset: King and Queen - From carvings depicting King Ramesses II and his wife, Queen Neferteri.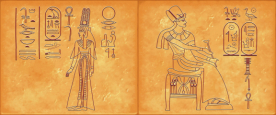 borders, 5 1/4" and 8"

clay

sand

sienna

5 1/4" x10' roll ...$36 US

5 1/4" x 15' roll ...$54 US

8" x10' roll ...$54 US

8" x 15' roll ...$80 US

As with all my designs, custom widths and lengths can be produced for a small additional fee - please inquire.

ceramic tiles!


Our wallpapers are waterproof using pigmented inks on a sturdy latex-injected paper. Papers will arrive untrimmed and should be applied to walls using standard wallpaper paste.

TEL (304) 657-1288
Copyright © 2001-2015,,GATE Multimedia, All Rights Reserved