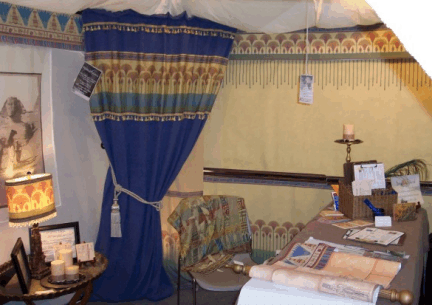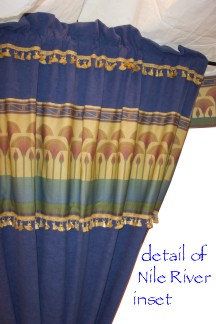 The Nile River design is printed on a matte satin polyester and applied over a beautifully rich royal blue combed cotton velvet. The same floor-to-ceiling Nile River design is printed for the wall on the right. The silk sheer panel, seen peeking behind the blue drapery (and is partially hidden behind the chair) also has the floor-to-ceiling Nile River design printed on it.

On the left of the photo, a little bit of the Lotus Blossoms border, Sandstone colorway, can be seen. A vintage photograph of tourists on a camel in front of the Sphinx is printed on a light cotton batiste fabric and made a lovely window sheer.

Pictured at left are two sconces shown at INATS East. Nile River (top) was printed on canvas, and Dragonfly (bottom) was printed on a lovely back-lit film. The sconce shades are available for $27.00 each.

Pictured at right is the black obelisk-inspired lamp base with a black lacquer finish ($162.00), topped with a pyramid-shaped Photo-shade ($59.00). Featured on the back-lit shade are four, sepia-toned tourist photos from the 1800s. Check out the Dragonfly shade!
Back to GATE Multimedia's wallpaper...
TEL (304) 657-1288
Copyright © 2001-2015,,GATE Multimedia, All Rights Reserved