When preparing your files to send to GATE Multimedia, consider resolution! All bitmapped digital images must be at a resolution of at least 100dpi. Please include proof prints of your files and remark on any special or unusual features. We are not responsible for errors in files provided to us - proof-reading should be performed before we receive files. It helps if precise instructions and remarks special characters and formatting are included, as well. Graphic files that must be converted, edited, or rebuilt will require an extra charge. Please ask for a quote.
Types of media accepted -- floppy discs, Zip discs, and CD-ROMs in PC format. Electronic transfer of files can be sent to gatemm@labyrinth.net.
Your document must be built to 100% of actual size. Please outline or convert to paths all fonts, or include fonts along with graphics files.
Text documents can also be 'blown up' to a larger size, by either scanning to an image and resizing or having the text provided in a .txt format or a Word .doc to be imported into a graphics application.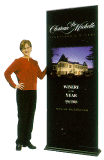 For a quick, affordable, and visually-effective pop-up/retractable display, consider Nimlok's Rollup Banner System. File prep for this system requires a total size of 33 3/8" x 94 1/2", and a visual size of 33 3/8" x 84 5/8". We would be glad to put the pieces of your artwork together (logo, text, photos, etc.) to create a great looking and highly functional rollup system.